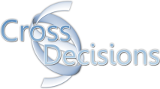 Cross Decisions — Russia
www.crosdecs.ru

contact:
Cross Decisions
Saint-Petersburg, Russia
phone:
+7 812 982-27-28
e-mail:
services:
Cross Decisions is a consulting and systems integration company majoring in ECM, DMS, CRM, ETL and BI solutions. Operating in Russia, Cross Decisions provides IT solutions and services for SMBs. We offer analysis, design, customisation and development, training, implementation and maintenance services based on openCRX.